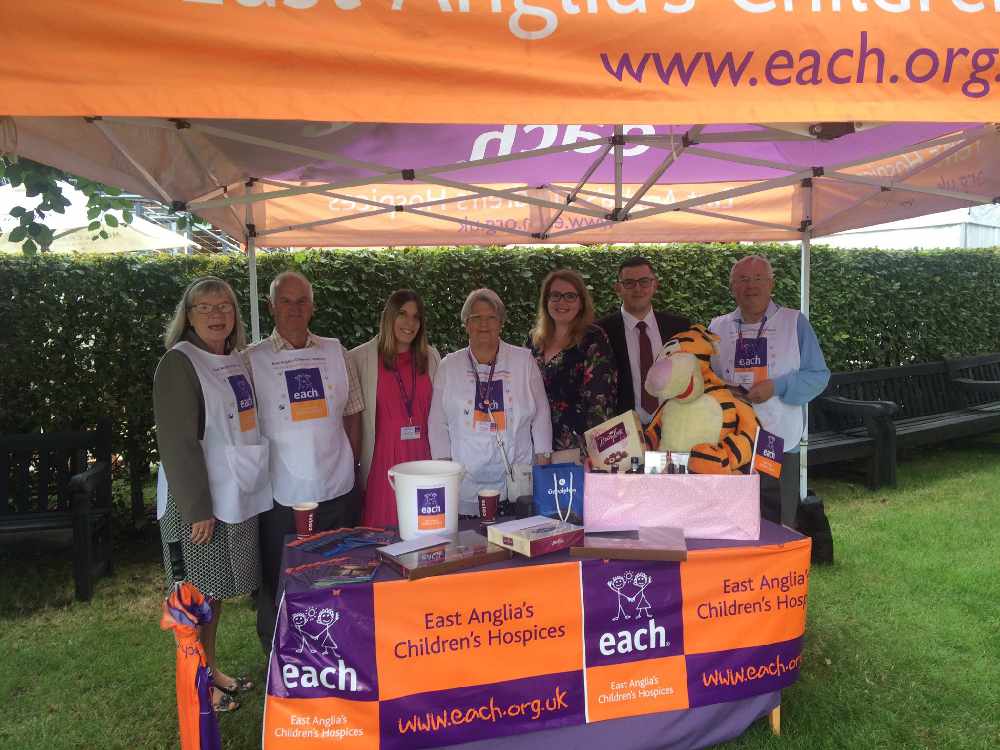 EACH representatives at last year's July Festival
East Anglia's Children's Hospices (EACH) has been confirmed as the official charity for the Moët & Chandon July Festival, taking place from 12th to 14th July, for the fourth consecutive year.
EACH, that provides care for children and young people with life-threatening conditions and support for their families across the region, was appointed the first official charity for the three-day festival in 2015. The aim of the partnership is to help raise funds for and promote awareness of EACH to a wider audience.
There is a close link between the charity and the festival as the Duchess of Cambridge is Royal Patron of EACH and The Duchess of Cambridge Stakes, a Group 2 race for two-year-old fillies over six furlongs, takes place on Feel Good Friday on the 13th.
Generous punters raised over £9,400 for EACH at last year's July Festival and the charity hopes to see that total reach £10,000 in 2018, which could pay for 45 vital hydrotherapy sessions.
To help, £1 from the sale of every Mojito cocktail, Cosmopolitan cocktail and Strawberry Mojito mocktail (excluding cocktail boxes and third party concessions) will go to EACH.
Racegoers will also be able to give £5 by simply texting 'EACH07 £5' to 700070. Details of the text to donate option will be featured in the racecards and on the big screen throughout the festival. EACH volunteers will be rattling collections buckets at the end of each day, too.
Amy Starkey, Regional Director, Jockey Club Racecourses East Region, said: "We're delighted to confirm that EACH are once again our official charity for the Moët & Chandon July Festival. Having raised over £8,000 through donations last year, we ask racegoers again to give generously for this extremely worthy cause. Over the three days we'll be directing racegoers to visit EACH at their stand in the Grandstand & Paddock Enclosure to learn more about the fantastic work they do and to meet their dedicated team."
Victoria Matthews, EACH Suffolk Corporate Fundraiser, said: "The Jockey Club recently brought its horse-drawn carriage to our Cambridge shop ahead of the Moët & Chandon July Festival, and it's fantastic to now be confirmed as the official charity for the festival once again. We're really privileged to be able to attend what we know is a superb event and look forward to seeing all the racegoers.
"Anyone who wants to find out more about EACH and how to support us can do so by visiting our on-course stand in the Grandstand & Paddock Enclosure, where they will also be able to enter a free prize draw, with the chance to win a luxury hamper."
For more information about and to get tickets for the festival, visit http://newmarket.thejockeyclub.co.uk, speak to the sales team on 0844 579 3010 or the hospitality team on 01638 675300.