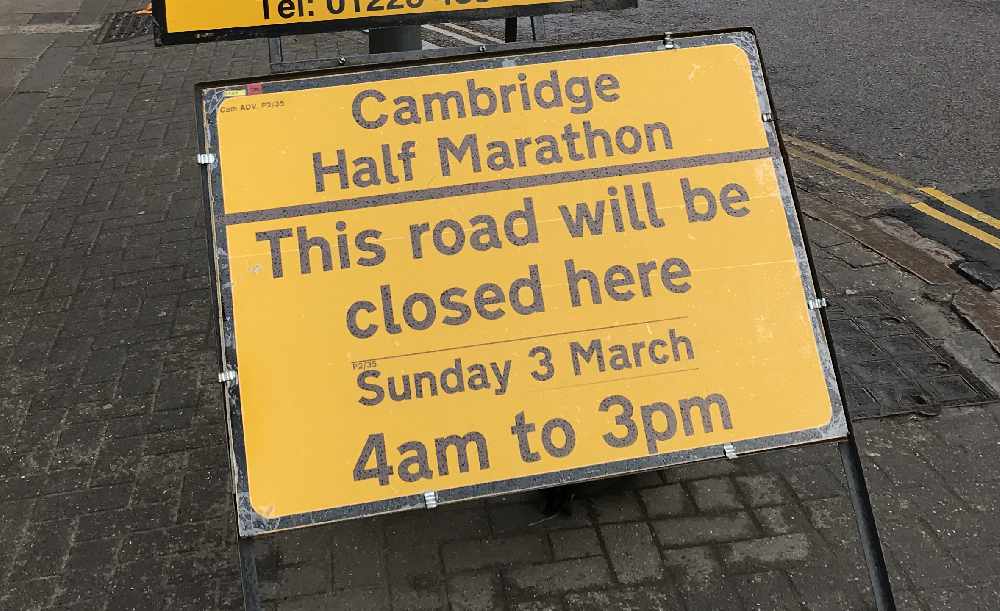 The Cambridge Half Marathon returns to the city this weekend with around ten thousand runners taking part in the 13.1 mile run around some of the city's best known landmarks.
The single-lap race starts at 9.30am this Sunday (3rd March) when runners will set off from Midsummer Common on Victoria Avenue, before heading through the historic city centre as well as passing through Trumpington and Grantchester before returning to Victoria Avenue.
Traffic management will have been put in place from 4am with some road closures lasting until 4pm.
Along with the participants organisers are expecting around 6,000 spectators. All car parks will remain open throughout the day of the event , except for a short period of time (09:15 – 10:30) where access to Grafton West Car Park will be restricted.
Bus services will continue to run on the day of the event, however the stops on Trumpington Street and Downing Street will be suspended up until 13:00, with an alternative stop in place on Emmanuel Street.
Here's a full list of road closures for this Sunday 3rd March.
ROADS

FROM WHICH JUNCTIONS / ROUNDABOUTS

SIDES OF THE ROADS - CLOSED

TIMES

VICTORIA AVENUE

CHESTERTON RD - MAIDS CAUSEWAY

BOTH

04:00 - 16:00

MAIDS CAUSEWAY / NEWMARKET RD

VICTORIA AVENUE - ELIZABETH WAY

BOTH

09:15 - 10:30

MAIDS CAUSEWAY / NEWMARKET RD

VICTORIA AVENUE - ELIZABETH WAY

EAST-BOUND ONLY

09:15 - 13:30

ELIZABETH WAY

NEWMARKET ROAD - CHESTERTON RD

BUS LANE

06:00 - 13:30

CHESTERTON ROAD

ELIZABETH WAY - MAGDALENE ROAD

WESTBOUND ONLY

06:00 - 13:30

MAGDALENE ROAD / BRIDGE STREET

CHESTERTON RD - ROUND CHURCH

BOTH

06:00 - 13:30

SIDNEY STREET / MARKET HILL / KING'S PARADE

ROUND CHURCH - TRUMPINGTON STREET

BOTH

04:00 - 11:30

TRUMPINGTON STREET

KING'S PARADE - THE FEN CAUSEWAY

BOTH

08:30 - 13:00

TRUMPINGTON ROAD

THE FEN CAUSEWAY - CHURCH LANE (TRUMPINGTON)

SOUTHBOUND ONLY

08:00 - 12:00

CHURCH LANE / GRANTCHESTER ROAD / MILL WAY / HIGH STREET / COTON RD

TRUMPINGTON ROAD - BARTON ROAD

BOTH

09:00 - 12:00

BARTON ROAD

COTON ROAD -
THE FEN CAUSEWAY

WESTBOUND ONLY

06:00 - 13:30

THE FEN CAUSEWAY

NEWNHAM ROAD - TRUMPINGTON ROAD

BOTH

06:00 - 13:30

SILVER STREET

TRUMPINGTON STREET - QUEEN'S ROAD

BOTH

06:00 - 13:30

NEWNHAM ROAD / QUEEN'S ROAD

THE FEN CAUSEWAY - GARRET HOSTEL LANE

SOUTHBOUND ONLY

06:00 - 13:30

GARRET HOSTEL LANE / TRINITY LANE / TRINITY STREET / ST JOHN'S STREET

QUEEN'S ROAD - ROUND CHURCH

BOTH

04:00 - 15:00