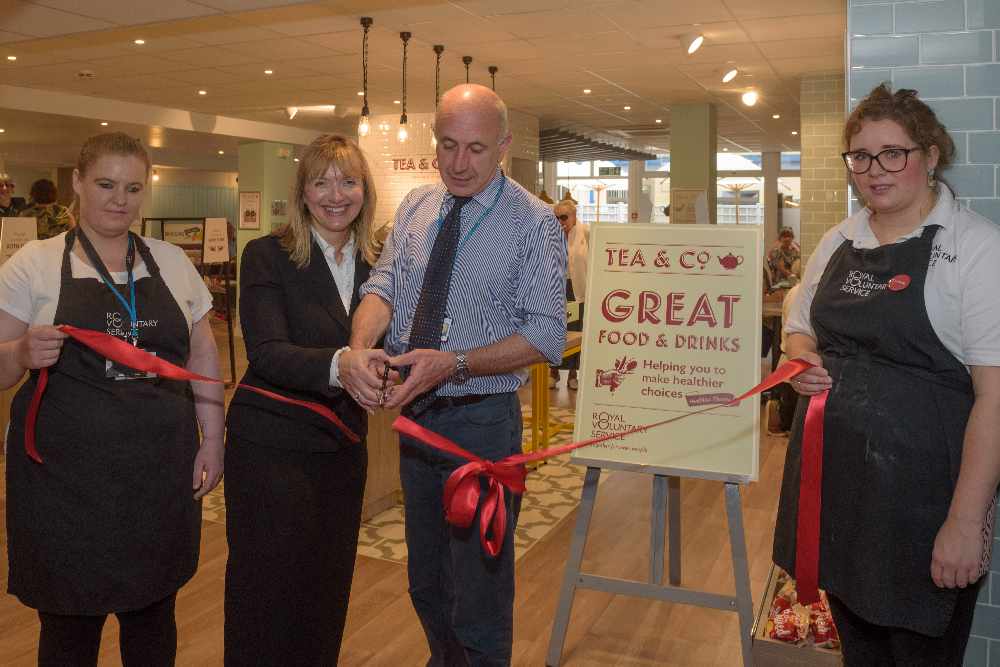 ): Royal Voluntary Service Tea & Co volunteer Laura Smith; RVS Chief Executive Catherine Johnstone; Dr Mike More, Board Chair of Cambridge University Hospitals NHS Foundation Trust; RVS volunteer Roseanna Waterfall.
• New Addenbrooke's café has menu to help promote healthy eating and drinking • Product range provides chance to reduce calorie, fat, salt and sugar consumption • Trained, caring volunteers on hand to offer support and signpost community services for older people • Charity calls on more hospitals to follow Addenbrooke's example
Cambridge University Hospitals' NHS Foundation Trust Chair Dr. Mike More opened a café with a difference today at Addenbrooke's Hospital.
Royal Voluntary Service Tea & Co in the hospital's Outpatients area offers healthy nutritious options and new menus for NHS staff, visitors and patients, including fresh fruit and healthy snacks and lunch options.
At the heart of the café are its volunteers who also benefit, since research by the charity found that older people who volunteer are happier and healthier than those who don't. As well as preparing and serving food and drinks, the trained, caring volunteers, – many over 70 – signpost services available to older people in the local community. In Cambridgeshire and Peterborough, Royal Voluntary Service runs an activity centre, social clubs and a car transport scheme – in addition to an A&E On-Ward service at Addenbrooke's.
Penny Gillett, age 73, who volunteers in the Royal Voluntary Service café said:
"I've been a Royal Voluntary Service volunteer for 30 years and love working in the café at Addenbrooke's. It's extremely busy so time flies by and we get lovely feedback from customers. I think the new look Tea & Co creates a really modern café environment and it's great to be offering a wide choice of healthy options."
Busy shift patterns don't always make it easy for NHS hospital workers to eat, drink and shop healthily. According to previous research[1] by Royal Voluntary Service, nearly one in five (18%) NHS doctors and nurses admit they have a poor diet with most (80%) skipping meals and snacking (76%) regularly. 78% want to see healthier options introduced and 62% think this will have a positive effect on their overall diet.
With range changes, product reformulation and promotions on healthier items, Royal Voluntary Service's Healthier Choices programme is having a significant effect on consumer behaviour. In the first quarter of 2017, year on year sales of fruit increased by 25%, healthier chilled snacks like salad and sushi by 55% and healthier sweet and savoury snacks like popcorn and dried fruit by 109%. Healthier Choices items represented 38% of UK retail sales in the first quarter of 2017 vs 26% in quarter one in 2016.
In October 2016, Royal Voluntary Service launched Revitalise, the first health-focused dietary-specific hospital shop, and in March unveiled Shop & Co, a contemporary hospital shop offering convenient healthy food, drink and grocery choices. All are run by staff and volunteer teams and proceeds from the charity's 400 hospital cafés, shops and trolley services fund its wider work enriching the lives of over 100,000 older people every year in hospitals, at home and in the community.
The charity has earned the praise of Government and public health and hospital food campaigner Jamie Oliver. It has been ranked top of the Healthy Hospital Food League Table[2] by the Campaign for Better Hospital Food and has been awarded a Social Enterprise Mark for its retail operation.
Royal Voluntary Service is the biggest refreshment retailer in hospitals in England, Scotland and Wales.
Chair at Cambridge University Hospitals, Dr Mike More, said: "I was honoured to be asked to open the new café and know it will provide a much valued service to our staff and patients. I would like to thank the charity and its volunteers for the enormous contribution they make here at the Trust."
Kate Bull, Executive Director of Retail for Royal Voluntary Service, said: "We're delighted to be opening Tea & Co at Addenbrooke's today. With over 7000 volunteers supporting our shops, cafes and trolleys, you are sure to meet one of our amazing people when you visit us."
"The new-look café is going to play an important part in providing a wide range of healthier on-the-go food and drink choices to hospital staff and visitors. Customers can also feel good about their purchase, knowing that we are ploughing funds back into improving support services for older people. We hope many more commissioners and hospital partners will follow Addenbrooke's' example by partnering with us to transform their own retail operations."