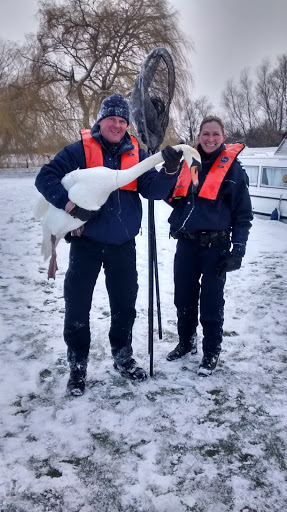 A female swan with a hook caught in her beak and tongue was released back to Bottisham Lock, in Waterbeach by her RSPCA rescuers on Tuesday (06 March).
As previously reported, the RSPCA working with Cambridgeshire Fire and Rescue Service, managed to catch the swan who had been eluding capture for a number of days.
After catching the injured swan she was taken to the RSPCA East Winch Wildlife Hospital for treatment where the hook was removed, she was given pain relief and she thankfully made a fast recovery.
On Tuesday (6 March) RSPCA Inspector Jon Knight and Animal Welfare Officer (AWO) Jane Folly returned to the location to release the swan.
Inspector Knight said: "The rescue of this swan had been a tricky one in difficult conditions. We were so grateful to the fire service for all their help in rescuing her and the staff at East Winch did an amazing job getting her back to full health so quickly.
"It was great to be able to release her back to the wild where she belonged. Unfortunately her partner wasn't in the area when we released her, but a kindhearted member of the public later called us to say that she has now been reunited with him and they have been spotted swimming together."
The RSPCA was originally called on Saturday 24 February to reports of a swan on the water with a fishing hook caught in her mouth and line trailing behind her.
Throughout the weekend and the following week, officers attended the location and attempted to catch the injured bird but to no avail as she would keep heading out to the middle of the water where she could not be reached. But as the hook was in her tongue, there was a concern she would not be able to feed and would continue to grow weaker.
Two officers were sent again on Wednesday 28 February and after a number of hours trying, they contacted Cambridgeshire Fire and Rescue Service to see if they might be able to send a boat to help, which they did.
The boat was launched by Cambridge White Watch and the two RSPCA officers Jane Folly and Inspector Jon Knight stayed on the bank to catch the bird - and between them all they managed to get the swan safely to shore.
Once caught the bird was examined and it was clear that the hook had gone right through her beak and tongue - making it impossible for her to feed.
AWO Folly said at the time: "We are so grateful that the fire service were able to come out to help us rescue this swan as we just wouldn't have been able to get her without them.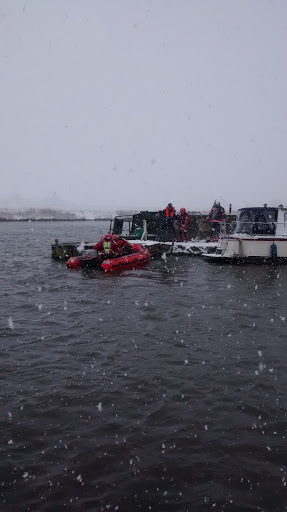 "It was a pretty chilly day and it was blizzard conditions at some points, but we all soon warmed up once we knew that we had managed to catch this beautiful bird and helped her. If she hadn't been caught it's likely she would have eventually died a slow painful death."
A fire service spokesman added: "The crew worked closely with the RSPCA staff to plan the safest way to help the swan. Wearing specialist in-water dry suits the crew used a rescue boat to retrieve the swan and bring her to the river bank, safely leaving her with the RSPCA staff."
Sadly we do see a large amount of birds being brought into us with these kind of injuries. Most anglers do make the effort to retrieve and take home all their fishing line and tackle but sadly some are not so careful, which result in incidents like this.
For more information about disposing of fishing litter properly please visit the RSPCA's website here.
Top tips include:
Take unwanted fishing line home and cut it into pieces before putting in the bin.
Be aware of surrounding trees – discarded line caught in foliage causes problems for wildlife.
Don't leave bait unattended – always remove from the hook and put in safe place.
Use a bait box.
Dispose of any litter you see, even if it's not your own.
If you do encounter a wild animal you think needs help, call our 24-hour emergency line on 0300 1234 999 or visit our website at www.rspca.org.uk/adviceandwelfare/wildlife/injuredanimals