Food and Drink Venues - Curry Queen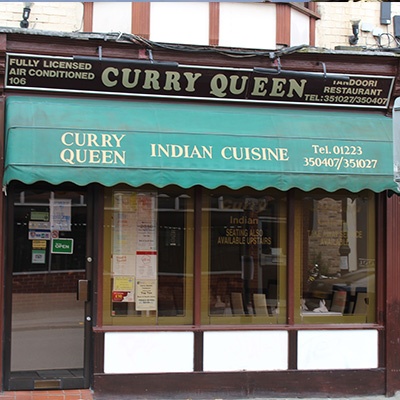 Curry Queen is an Indian Restaurant and Takeaway located at 106 Mill Road, Cambridge, CB1 2BD, was first established in 1968 in a university city and the county town of Cambridgeshire and has seen growth in its success.

One of the most sought after restaurants, it is very popular amongst its customers. We are the winner of 2011 Hungry House Award, voted in the top 10 Best of South Asian Eating & Drinking Awards as well as the Just Eat Tried and Tested restaurant. All staff are fully food safety trained and has 5 Star Hygiene rating.
The restaurant has a capacity to seat 100 with a fully licensed bar with all round air conditioning. The decor is an eclectic mix of East meets West. The bar lounge has a warm modern feel, whilst the dining area is a little more traditional. Diners will experience a very warm welcome from the friendly and attentive staff.
Great care and attention is taken by our dedicated staff to ensure only the finest and most fresh ingredients are selected to prepare satisfactory cuisine.
Parties and reservations are welcome so book early to avoid disappointed.

Curry Queen is the ultimate in authentic and contemporary Indian cuisine in Cambridgeshire.
http://www.thecurryqueen.co.uk/